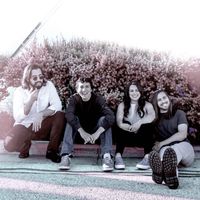 I grew up in South Texas, and I rarely saw any snow... so this song resonates with me.  I love the arrangement on Good Latimer's reggae-influenced pop song "Go Where It Snows" (listen here: http://www.hyperurl.co/gowhereitsnows).  This song is loaded with vocal and musical hooks.  It's the kind of song where you keep hearing new things with each listen.  Aaron does a great job on the lead vocal and plays a bouncy melodic bass guitar that playfully drives the song.  Michael Zaring (aka Zee) plays the rhythm guitar and performs one of my favorite guitar solos on the album — that delightful riff that signals the outro (ending) after the final chorus.  Funny thing is… there was no ending to this song when I first heard the demo.  They could not figure out what to do after the last chorus. So two things happened at the same time… First, Aaron and I went off to my RV (Winnabagel Studio) and spent hours working out the ending.  He stood there singing nonstop, coming up with all kinds of improvisational vocal riffs, until he finally came across the hook "I want to see it snow."  Meanwhile, Zee went off on his own and created a cool and unique guitar solo.  By chance, both parts ended up working perfectly together when the tracks were assembled.   
Another highlight of the song is the steel drum musical hook that Michael Klym came up with for the chorus.  It's a memorable melodic pattern that sticks in your head after each listen.  Michael also came up with the other woodblock/flute sounding hook you hear most clearly at the beginning of the song.  
As far as vocals go, I could spend several paragraphs going through the process, but I'll keep it short.  In the chorus, Samantha does all the background vocals on top of Aaron's vocals.  Both Aaron and Sam's chorus vocals were assembled with many tracks, using cuts, delays and reverb to achieve the wide vocal effect.  One of the background vocal highlights is on the pre chorus (aka rise) when Aaron sings "and you know it's a feeling…"  That's Sam and Zee singing "ah" in harmony.  Originally, the harmonies were an octave lower but I noticed they were interfering with Aaron's lead vocal, since they were sharing the same frequency range.  So I asked Zee and Sam to go an octave higher.  Zee's falsetto vocal and Sam's brassy tone ended up sounding great together, just like a human horn section.   
Finally, I have to thank drummer Milos Delic for playing such a wonderful and inventive part on this song.  His style is so unique and complex, using skillful hi-hat and cymbal work to move the song.  If you could hear the drum tracks soloed on their own, they would mesmerize you.  For more information on Milo's services, visit https://www.airgigs.com/user/Delichdrums or http://www.topdrumtracks.com.